Since 2009, Telecon Enterprise has partnered with Innovision on four occasions to install and provide support for computer equipment in several hundred polling stations across Québec.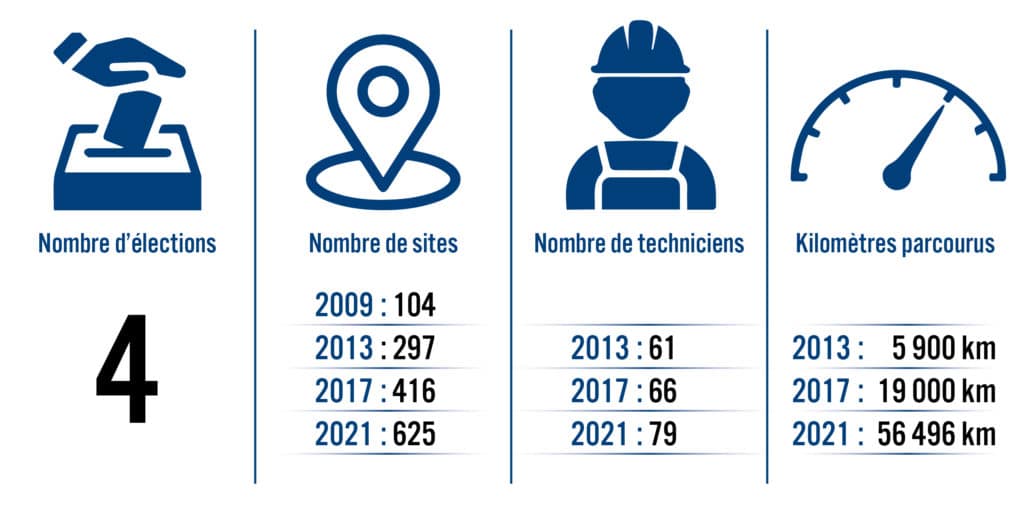 The start of a longstanding relationship
Innovision+ is a leader in the outsourcing of electoral processes through the use of information technology. Eleven years ago, the Innovision+ team wanted to establish a partnership with a firm specializing in connectivity that had the resources to support them in the installation and maintenance of computer equipment in hundreds of polling stations across Québec. With our team of qualified technicians and our implementation strength, we quickly positioned ourselves as a leading partner for them.
Since then, at every election, we have been responsible for installing printers, scanners and laptops at many polling stations across the province. We ensure that the equipment installed is fully functional and we remain available to come and fix any technical issues right away.
Our business relationship with Innovision has significantly evolved over the past decade, thanks in part to Telecon's continued growth, which has enabled us to provide them with high-quality service in more and more locations each year. In 2009, we were responsible for the installation and maintenance at 75 sites, compared to 600 in 2021. The geographical scope of our mandate now extends to remote areas such as the Côte-Nord, Bas-Saint-Laurent, Saguenay–Lac-Saint-Jean and Outaouais regions.
Over the years and elections, our agility, exceptional customer support, speed of execution, implementation force and, most importantly, the talent and expertise of our technicians, have led our partnership with Innovision to grow and solidify.
Planning, co-operation and support at every stage
Although elections are a short-lived event, they require a great deal of planning. In February, our team and that of Innovision meet to set up a precise schedule to follow. In the subsequent months, we assist Innovision with each of the major steps of the electoral process (boards of revisers, advance polling stations, voting at the office of the returning officer and polling day).
Challenges taken on successfully
A large-scale and high-intensity project such as this one brings its share of challenges. Managing the many stakeholders involved in the organization certainly adds an extra level of complexity. In particular, our team must ensure a clear alignment with the co-ordinators of the various municipalities and those of Innovision+.
In addition, managing a large number of resources, including new recruits, is a considerable challenge that our team is very apt at handling. Our managers are very proud of the high level of commitment and pride shown by our existing and new employees in carrying out this important project.
Our ability to control the unpredictable
In 2021, as during every election, the unpredictability of the project required our managers provide a great deal of availability in the weeks leading up to the election. This year, the government added additional voting days, which obviously increased the workload for our team. The pandemic also caused a lot of departures in municipalities, so we had to work with people who were less familiar with the electoral process. Other changes also occurred during the project: municipalities and computers were added along the way, and sites, dates and times were changed at the last minute. Despite this, our resources and the strength of our network enabled us to quickly reorganize ourselves and adjust to the client's needs.
In summary
For the past 11 years, the scale and talent of our team, our network and our agility have made us the ideal partner to carry out these major projects in several geographically remote locations. We are extremely proud that our partner Innovision+ reaffirms their confidence in us at every election, an important event for which there is no room for error.