Gaétan Dumais, Business Development Director at Telecon Enterprise, has nearly 30 years of experience in the telecommunications industry. Passionate about new technologies, he has a keen and curious mind and believes deeply in our ability to concretely help our clients by offering them turnkey connectivity solutions covering their project from beginning to end.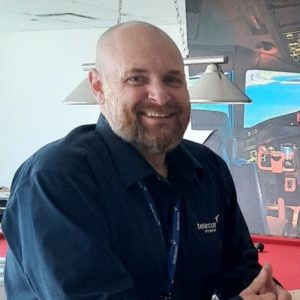 As Director of Business Development, Gaetan is responsible for relationships with our manufacturers, distributors, partners and customers. He is a cornerstone of our team as he assists on many major projects and clients accounts at both the strategic and operational levels, especially for data centres and industrial projects. 
Gaétan is committed to listening, and he likes to take the time to help, develop and design solutions for our clients, but also for his colleagues. In fact, he acts as an advisor for many of them. He takes pleasure in building a team and believes in the ambitions of his group. He is constantly looking for ways to get others to excel.

Our director has been with Telecon for 25 years and has never stopped striving for excellence. Over the years, he has managed major projects and has been a major player in the growth of our business with our private clients. Gaétan has maintained important relationships with several key clients for over twenty years.
The autonomy he is given to handle his projects motivates him to continually strive to stay updated in order to remain a reference in his field. Telecon's great potential is what inspires him to go above and beyond on a daily basis. He believes Telecon is essential to the future of connectivity in Canada.
We all want to thank Gaétan for his dedication and loyalty.